Colonial House History
Visit the Space Shuttle Tree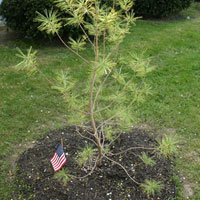 On April 4, 1997, the Space Shuttle Columbia was launched from the Kennedy Space Center, Florida. The four day mission orbited the earth 63 times, traveling a total of 1.5 million miles.
Astronaut Gregory Linteris, a New Jersey native, took Eastern White Pine seeds with him on that flight. NASA gave those seeds to the New Jersey Forestry Service which grew only 35 trees. The seeds germinated in only 7 days, about one-half the normal germination time. They were dedicated to the memory of the seven crewmembers who perished in the Space Shuttle Columbia in 2003. It is called a "Space Shuttle Tree."
By placing the tree on the grounds of the Colonial House Museum, Cape May positions the very old and the very new in a very visible location, 653½ Washington Street, Cape May, NJ.