Plan Your Visit
Visit the Colonial House Museum, 653 ½ Washington Street, P.O. Box 495, Cape May (next to City Hall, behind the Blue Rose Inn).
Winter tours are available by appointment. We respectfully request a minimum of 24 hours notice. Please send email to 1730colonialhouse@gmail.com. There is no fee. The museum is free to all visitors.
The Washington Street Mall with restaurants and shops starts in the next block. A free booklet, This Week in Cape May, is available at the information booth at the beginning of the mall.
Visit the Space Shuttle Tree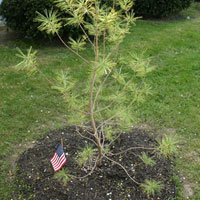 On April 4, 1997, the Space Shuttle Columbia was launched from the Kennedy Space Center, Florida. The four day mission orbited the earth 63 times, traveling a total of 1.5 million miles.
Astronaut Gregory Linteris, a New Jersey native, took Eastern White Pine seeds with him on that flight. NASA gave those seeds to the New Jersey Forestry Service which grew only 35 trees. The seeds germinated in only 7 days, about one-half the normal germination time. They were dedicated to the memory of the seven crewmembers who perished in the Space Shuttle Columbia in 2003. It is called a "Space Shuttle Tree."
By placing the tree on the grounds of the Colonial House Museum, Cape May positions the very old and the very new in a very visible location, 653½ Washington Street, Cape May, NJ.
Directions
GARDEN STATE PARKWAY
Exit at end of parkway (Mile 0, not Exit 0). Continue straight through 2 traffic lights. After the second traffic light (Madison Ave), turn left onto Franklin Street (the third street on your left). Turn into the first driveway on your right for the free city parking lot. The parking lot also has an exit/entrance at Washington Street. The Colonial House Museum is adjacent to the city parking lot. Parking is also available on Washington Street (meters 25 cents per quarter hour May 1 to October 31; free November 1 to April 30.).
NEW JERSEY TURNPIKE SOUTH:
Exit #11 to Garden State Parkway South. Follow Directions above.
STATE ROUTE 47
At Rio Grande, take Garden State Parkway South. Follow Directions above.