What's New
| | | | |
| --- | --- | --- | --- |
| 3/9 | GCMHS @ MAC 2017 Exhibit | MAC Gallery | 10:00 - noon |
| 4/13 | Monthly Meeting | CH | 1:00 PM |
| 4/28 | Essay Contest Award Presentation | Award School | 11:00 AM |
| 5/6 | Coast Guard Day Community Festival | CG Base | 8:00 AM |
| 5/6 | MAC Chocolate Tour | CH | 1:00 PM – 3:00 PM |
| 5/11 | Board Meeting | CH | 1:00 PM |
| 6/8 | Board Meeting | CH | 1:00 PM |
| 6/9 | Guide Orientation | CH | 11:00 AM |
| 6/15 | Open Tours for Colonial House | | |
| 6/15 | Summer Exhibit – WWI Centenary Camp Wissahickon | CH | |
| 6/17 | Antique and Fine Craft Fair (rain date 6/18) | Wilbraham Park | 9:00AM–5:00PM |
| 7/5,6.7 | July Celebration Brown Bess Demonstration | CH | TBD |
| 7/13 | Board Meeting | CH | 1:00 PM |
| 8/10 | Board Meeting | CH | 1:00 PM |
| 9/14 | Board Meeting | CH | 1:00 PM |
| 9/15 | Close Tours for Colonial House | | |
| 10/12 | Board Meeting | CH | 1:00 PM |
| 10/13,14 | Victorian Weekend | CH | 1:00 – 4:00 PM |
| 10/26 | Thankful Thursday at Brewery@HCSV | | |
| 11/09 | Board Meeting & Annual Meeting for Elections | CH | 10:00 AM |
| 11/x | Colonial House – 5th Grade Field Trip | CH | Open |
| 12/TBD | Christmas Party | | |
| 12/x | MAC Candle Light Tour | CH | 5:00 PM |
| 12/x | MAC Candle Light Tour | CH | 5:00 PM |
| 12/x | MAC Candle Light Tour | CH | 5:00 PM |
| 01/12 | Board Meeting – 2018 Planning Day | | 1:00 PM |
Program: World War I Memorial Inventory Project for Cape May City and surrounding areas of West Cape May, Cape May Point, Wildwoods and Lower Township
In the aftermath of World War I, Americans erected thousands of memorials throughout the country to commemorate US participation. Many were the work of the leading sculptors, artists, and architects of the day; others, such as simple honor rolls, were more modest but no less heartfelt. Sadly, as we approach the war's centennial, these memorials and their original purpose - to honor in perpetuity the more than four million Americans who served in the war and the more than 116,000 who died - have largely been forgotten. Many of the memorials have fallen into disrepair through neglect, theft, or vandalism.
The World War I Memorial Inventory Project is a volunteer-based effort to assemble a comprehensive, online record of World War I memorials and monuments in the United States. Its mission is to promote the documentation, preservation, appreciation, and interpretation of these memorials, and in so doing, to raise the profile of World War I in American public consciousness.
The only World War I monument in Cape May county is the Soldiers and Sailors monument in Cape May City. Commonly, referred to a the "all wars monument".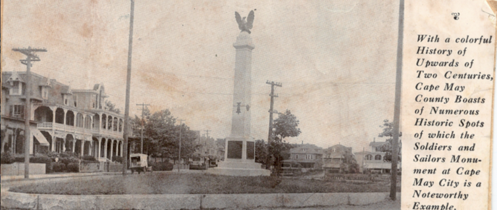 The monument was commissioned by The Grand Army of the Republic and Kindred Spirits by Post 40 John Mecray in Cape May City. Johnn Mecray is buried in Cold Spring Cemetery.
The "Grand Army of the Republic" (GAR) was a fraternal organization composed of veterans of the Union Army (United States Army), Union Navy (U.S. Navy), Marines and the U.S. Revenue Cutter Service who served in the American Civil War for the Northern/Federal forces. Founded in 1866 in Decatur, Illinois, and growing to include hundreds of posts (local community units) across the nation, (predominately in the North, but also a few in the South and West), it was dissolved in 1956 when its last member, Albert Woolson (1850–1956) of Duluth, Minnesota, died. Linking men through their experience of the war, the G.A.R. became among the first organized advocacy groups in American politics, supporting voting rights for black veterans, promoting patriotic education, helping to make Memorial Day a national holiday, lobbying the United States Congress to establish regular veterans' pensions, and supporting Republican political candidates. Its peak membership, at more than 490,000, was in 1890, a high point of various Civil War commemorative and monument dedication ceremonies. It was succeeded by the Sons of Union Veterans of the Civil War (SUVCW), composed of male descendants of Union Army and Union Navy veterans. (source: Wikipedia)
For more information on the National WWI Inventory visit: wwi-inventory.org
To view the project in Facebook: facebook.com/wwiiventory
For information on John Mecray visit: http://www.lyoncamp.org/Mecray40.htm
---
Genealogy Questions?
Contact Cape May County Historical & Genealogical Society, 609-465-3535
Email: museum@co.cape-may.nj.us